2020 Voting Updates
Election Day:
In-person voting on Election Day will proceed as normal and you may vote at your designated polling location. Election Day voting will take place on Tuesday, November 3, from 6:00 AM to 9:00 PM.
Early Voting:
In-person early voting will take place October 24 – November 1. Click on the links below to see the locations for each county.
Orange County
Rockland County
Ulster County
Note: in all three counties, registered voters may access any early voting center.
Absentee Ballots:
All New Yorkers may now request an absentee ballot for the upcoming election.
On the application, simply select "temporary illness or disability" due to the risk of contracting COVID-19.
You can fill the application out online through the Board of Election's Absentee Ballot Application Portal by clicking HERE.
You can also print out the application from the link HERE, fill it out at home, and mail it to your county Board of Election. If you fill out the application manually, be sure to mail it in no later than October 27.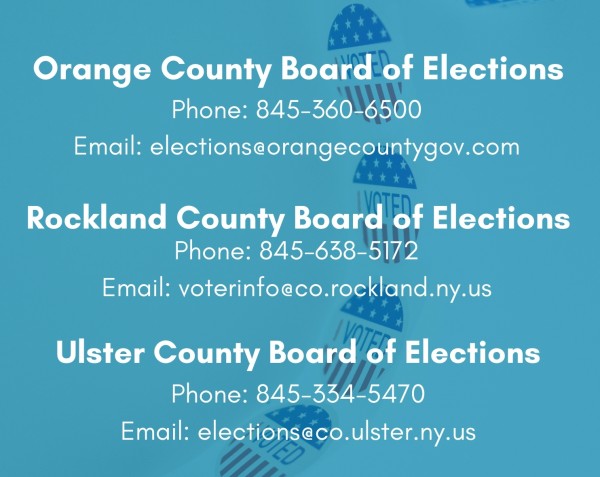 Learn how the Electoral College works with this interactive page from The Economist.
Whose running in your local election? Where do they stand on certain issues? Vote411 allows you to take a look at what your ballot will look like on election day. Click the link to find out. Vote411
Rock the Vote is the largest nonpartisan, non-profit organization in the United States driving young people to the polls. To learn more about Rock the Vote or to pledge to Rock the Vote click here: Rock the Vote
Learn more about how the government works with games!